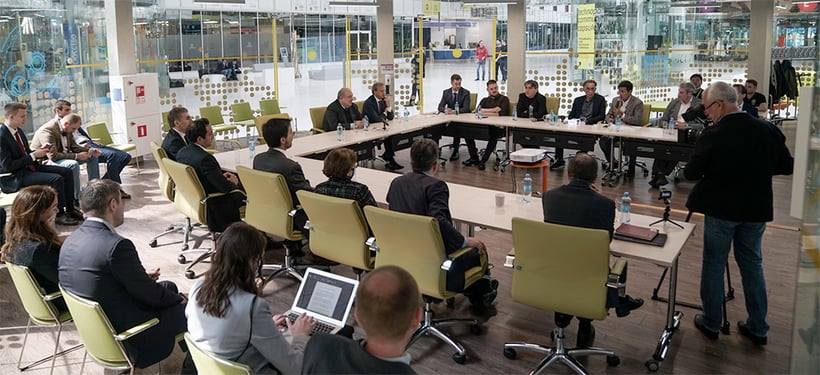 CEO and Founder of SODIS Lab Andrey Shakhramanyan presented to the President of Armenia Armen Sarkissian modern IoT solutions for the construction industry, including monitoring system of the technical condition of buildings, BIM, and digital twins.
The event was attended by the Chairman of the Skolkovo Foundation Arkady Dvorkovich and several Foundation residents, including representatives of SODIS Lab, VEB.RF, Big Three, Total Vision, and other companies.
Andrey Shakhramanyan presented the latest SODIS Lab solutions. The representatives of Armenia got interested in the company's experience in online monitoring of buildings, features of sensor operation, and data processing. СЕО of SODIS Lab also spoke about the implementation of BIM modeling, digital twins, and other technologies at the largest facilities in Russia, including the Lakhta Center in St. Petersburg, the high-rise buildings of the Moscow-City, and several stadiums built for the 2018 FIFA World Cup.
"
"We have extensive experience in cooperation with Armenian companies and IT specialists, there is a significant potential in the development of joint digital products for the construction industry using artificial intelligence, big data processing, IoT, and their export to foreign markets", said Andrey Shakhramanyan.
"
"I would like to thank you for the invitation. It was very interesting to see how the creative and scientific potential of thousands of people realized in one spot. You have set a good pace. We appreciate it because in Armenia, since the times of the USSR, there are some of the strongest physics, mathematics, and schools with natural sciences degrees. Now there is a serious interest in the IT industry. We would like to establish business cooperation with the Skolkovo Foundation. I reckon I will personally oversee this process", the President of Armenia said.
"
"Cooperation between Skolkovo and The Republic of Armenia has great potential. At а high level, we successfully interact within the framework of the Interstate Program of Innovative Cooperation of the CIS Member States. Companies from Armenia regularly participate in the acceleration programs of the Skolkovo Foundation and become its residents. Russian innovators are ready to enter the promising Armenian market and to joint projects to promote developments in the markets of third countries", said Arkady Dvorkovich.